Audicle Face: Time 'n' Timing (TNT)



version: 1.0.x.x (quintesson)



home: http://audicle.cs.princeton.edu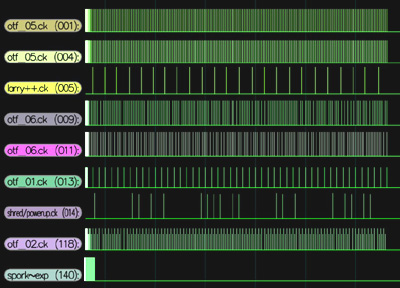 click to enlarge
The fourth face of the Audicle, Time 'n' Timing, shows a list of each shred. Every time a shred is activated, a vertical line will illuminate to the right of the associated shred name/id in real time.


Typing a will zoom in, while typing d will zoom out in time.


Typing w will change the view so that the illuminated vertical line is left-justified and stationary to the ChucKian now, with the earlier activation lines traveling away towards the right.
previous face | main | next face
---
audicle | soundlab | cs | music